More Sphere Data
Seems there is always massive waiting in any military effort. So, while waiting around I've had time to make a more complete analysis of my last set of readings on the spheres. I have also had time to compare them to reams of readings taken to detect the portals used by our enemies to send the green insect like creatures into the battlefields.
The control fields are very different from those I've seen in combat. So, while I may know what is going to happen I can't be overly precise as to when… or exactly what the changes will be. From all I have seen it appears the entire forest area around the sphere will be sucked through the portal. The area is likely to be moved to another dimension, time or world. Removals are often, but not always, followed by a replacement… who knows what that might be.
Not knowing who is controlling this means I have no clue what may be coming, if anything. I'm guessing. May be some eccentric just likes the looks of the place and is stealing it. Whatever the case, the energy build up rate gives us a about a month… may be two to six weeks… then the forest will likely be gone. That is a sad thought.
If it is being stolen, I want to know by who and where it is being taken. I found that the energy flow is traceable and has a destination. I took a chance on one of my rest periods and teleported there. No doubt the forest is being moved. I have some pictures. More alarming is parts of Selenitica are being moved. I have to wonder if the crystals can be used in place of the more obvious portal spheres.
I thought of destroying the crystals in Devokan… I decided to leave Quin a note and see what he thinks after seeing the pictures.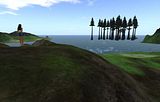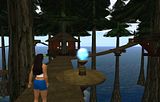 _________________
Guild Master Nalates Urriah - GoC
Nalates Urriah
is my SL and OSGrid name - MOULagain: Nal KI#oo o83 543 - Nalates KI#111451
Support:
Devokan Trust - Myst Style Stories Across Worlds
Support:
OpenUru.org - Myst/Uru Open Source Resources